Expertise
---
·Large-scale Reduction
Example:

We have experience in large-scale reactionup to tons. The mature manufacturing technique, new-type reaction equipment andcompetitive price are all in advantage.
·Large-scale Grignard Reaction
Example:

We have two R&D groups that specialize in boric acid productssynthesis for more than 20 years, accumulate rich experience from lab-scaletrial to scale up. With full equipped plant, new product developmentand processoptimization can be achieved in a short time.
·Large scale brominationreaction
Example: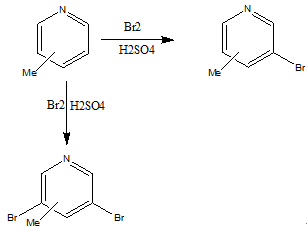 We weeded out the traditional technologywhich used diazotization process from amino pyridine to bromide pyridine,instead, we attach bromine directly onto pyridine ring, to achieve the purposeof high yield and low cost.
By using this technology, we developed aseries of similar products, such as:
3-Pyridyl bromide CAS: 626-55-1
3,5-Dibromo-4-methylpyridine CAS:3430-23-7
5-Bromo-2-picoline CAS: 3430-13-5
3-Bromo-2-methylpyridine CAS: 38749-79-0
3-Bromo-4-methylpyridine CAS: 3430-22-6
·Large scale couplingreaction
Example: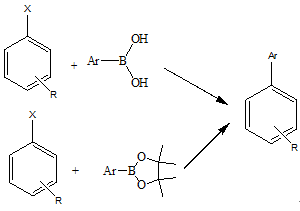 With more than 15 years experience on coupling reaction, we are capable of using suitable catalyst to increase the yield and reduce the cost.